36 Faces Official Book Launch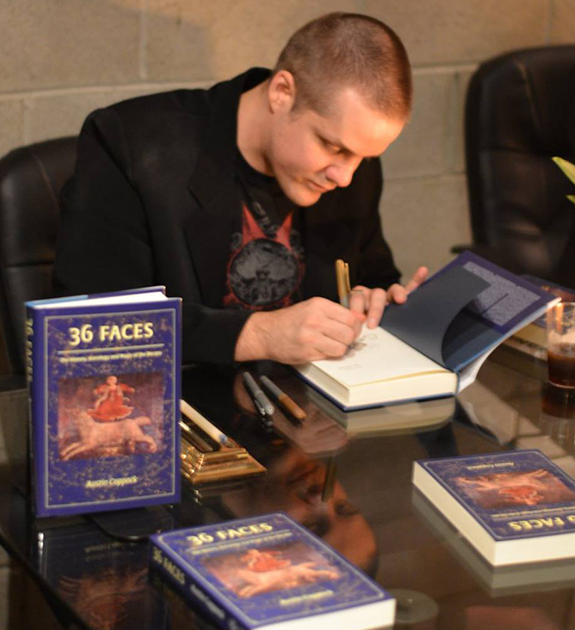 Last night's book launch of Austin Coppock's 36 Faces was well attended as the Los Angeles occult and esoteric astrology communities turned out to celebrate this important release. Special thanks to our own Kaitlin Reeves for hosting, and to Aaron Satterlee for his photography of the event. Pre-orders of both standard trade paper and hardcover editions of 36 Faces began shipping on July 18, with the Deluxe editions beginning to ship on Saturday August 16, and special editions posting out at the beginning of September. Congratulations to Austin for the release of this mighty work, we look forward to his future esoteric astrology titles.
We also wish to congratulate Gemma Gary, whose lavishly illustrated treatise on the lore and practice of water magic Wisht Waters just has been released, and is fast becoming one of our most popular titles. At present, Gemma is preparing a  full length book for future release through Three Hands.
Recently announced was Hands of Apostasy, our witchcraft anthology edited by Michael Howard and Daniel A. Schulke. This dynamic collection of original essays on traditional witchcraft features the original artwork of Finnish artist Timo Ketola, including Lucifer, which we have made available as a limited letterpress print. Pre-orders forHands of Apostasy are now being filled; the book will be released on September 11, 2014. Several selections of Timo's original images for this book will be shown at the occult art exhibition at the 6th annual Esoteric Book Conference, held at the University of Washington in Seattle this September 6th and 7th.