Happy New Year: 2014
Posted on

January 24, 2014

in Updates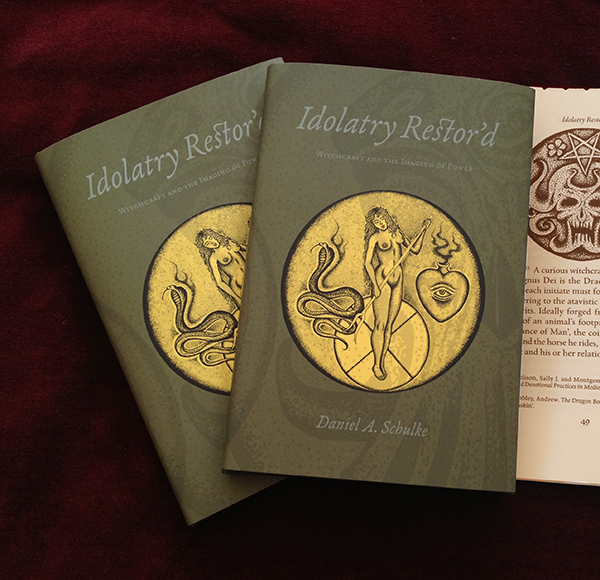 We at Three Hands Press wish a Happy New Year to our esteemed readers. 2013 was a prolific and successful time for our press, and 2014 holds even more promise, with new titles forthcoming from Austin Coppock, Andrew D. Chumbley, Martin Duffy, and Peter Hamilton-Giles. We extend our thanks to the many authors, artists and creative collaborators who worked hard to expand our catalogue.
All standard editions of Daniel A. Schulke's Idolatry Restor'd, (pictured above) have been shipped as of today. The book was printed on the same heavy archival stock as Joseph Uccello's Occlith Omniform 0, which melds well with our chosen lithographic inks and presents a sensual appearance and touch. Delays at the mill which manufactures this hard-to-find product held back production. Deluxe and Special editions are currently in the hand bindery, to be shipped to our customers on or before February 15.
Standard hardcover editions of August Alm's Tartaros have now shipped. Deluxe editions will begin shipping January 31, with special editions to follow a week later. Congratulations to August for his powerful work, which we are honored to carry in our catalogue.
Due to our busy holiday schedule, the release of Gemma Gary's monograph Wisht Waters has been delayed until February 28. We ask your patience as production continues. Your fortitude will surely be rewarded!
It is our honor to make mention of notably inspiring events and projects from our retinue of artists. Benjamin Vierling's work will be the subject of an upcoming exhibition entitled Benjamin Vierling: A Decennary Retrospective. A number of Benjamin's works will be featured in the exhibition, including Sacred Heart, which was released as a Three Hands Press limited edition print. The opening reception for the show took place on Friday, January 17, 2014, from 6pm-8pm in the Steele Gallery at the Gage Academy of Art in Seattle, Washington. Benjamin discussed his techniques, influences and working processes in a concurrent lecture, 'The Synthesis of Conflicting Forces'. The exhibition is onghoing until Valentines Day. Be sure to check out our own Three Hands Gallery, as Benjamin's work is occasionally made available.
Our handbinder Klaus-Ullrich Rötzscher has launched his Florentine Collections, a new line of fine, handcrafted journals and other accessories of the arts of writing and correspondence. Klaus's work stems from years of tradition and dedicated practice, resulting in objects of great artistry. We recommend a look at his handsome collection.
Liv Rainey Smith, with whom we've collaborated on books such as Children of Cain and Arcanum Bestiarum, now has a new website showcasing her original woodblock prints. Her esoteric animalia and other works from her portfolio can be viewed and purchased at xylographilia.com. Our hearty congratulations to Liv for this vital and dynamic web presence whose eldritch  design is worthy of her work.
For those who are part of our private subscriber list, stay tuned in the near future for announcements regarding new offerings for Three Hands Press.