Happy New Year: 2015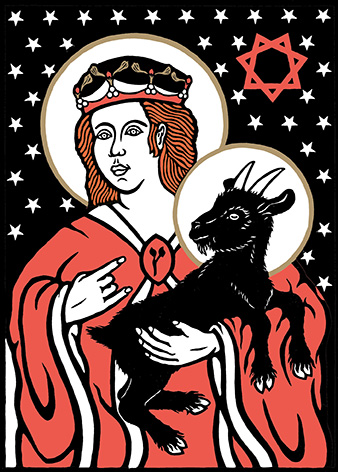 Three Hands Press wishes our readers the best for the newly-minted year. 2015 will see an expansion of our titles, which will begin to emerge from the presses in mid-February. Featuring works from Richard Gavin, Patricia Cram, Peter Hamilton-Giles, Amodali, Andrew D. Chumbley, and Michael Howard, our authors and artists will be turning out a diverse and strange esotery for the next six months. The close of 2014 was marked with the limited-issue of artist Liv Rainey-Smith's woodblock print Lux Stellarum, which was specially commissioned  for Three Hands Press. Representing  the Lady Babalon and the Beast, this remarkable image, printed 4 color letterpress by Dependable Letterpress, appropriately appeared at the Winter Solstice, to drink the last drops from 2014's  chalice.
In cooperation with esoteric publisher Ouroboros Press we have just released Volume 3 of Clavis: Occult Arts, Letters, and Experience, featuring the articles of Richard Gavin, Stuart Sudekum, Andrew Larson, Fredrik Eytzinger, and John Major Jenkins.
The Special edition of Hands of Apostasy, our watershed anthology on traditional witchcraft, is now shipping, and we thank all for their patience and understanding of the inevitable delays in the the fine binding process. Bound in quarter olive goatskin with corners, it features a daimonic cover image by James Dunk. Our thanks go out to Danya and Ivar at the Key Printing and Binding for working with us to realize one of the most beautiful fine editions we have yet produced.